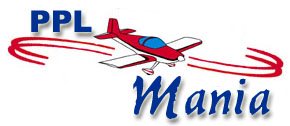 The Site For Pilots Passionate About Flying
Welcome to PPL Mania UK. We aim to provide information to all pilots, whether you are a student pilot studying for your private pilot licence or a pilot that has been flying for years. If you are learning to fly then PPL Mania has information relating to flying and the PPL syllabus in a layman's perspective.
Quick links:
Learn about getting your PPL flying licence, Learning to Fly
Aviation Classifiedsto sell/buy aircraft & pilot supplies for free!
See what people are saying in our message board, Aviation Forum
Aviation Humour,watch funny flying movies & play games!
Ever thought of paying for your flying by winning the UK lottery Find out more!
Keep up to date with what's going on at PPL Mania…
We have lots of new articles and features planned in the near future. Register your details with us and we will contact you as and when the new features appear.
New Features and Atrecles

Leaking Fuel!
A short account from a reader whose mock skills test didn't quite go to plan. Read on to find out just what happened.
[more articles…]

Meteorology
One reader gives his views about Met Office's 'Meteorology for Aviators' 2 days course in Exeter, Devon.
[more articles…]

Sample JAA Exams
If you want to pass the seven PPL ground exams then why not try a selection of online questions for each exam topic.
[more articles…]

Love is in the air
Internet dating for aviators or anyone involved in aviation. We review the 'Love Air' website.
[more articles…]

Flying in Florida
Check out an account from a reader who went to Ormond Beach Aviation in Florida to obtain his JAA PPL licence.
[more articles…]

UK Flight Schools
Our online flight school directory has all of the UK's popular flying schools across England, Wales, Ireland and Scotland.
[more articles…]
PPL Mania ensures that all information provided to us will be treated in the strictest confidence and will not be distributed or sold to any third party.
Latest Top Picks
Read more aviation stories
Buying Online
We look at the questions you should ask yourself when buying pilot supplies online. Check out our approved online pilot stores to be sure of a safe buying experience.
[more articles…]

Combat Motion Sickness
Also known as travel sickness. Read our guide to avoid motion sickness when flying. Helpful tips to stop you reaching for the sick bag.
[more articles…]

AvRICA African Aviation Charity
Barry Maurer tells PPL Mania why he started a charity that helps the people of Africa through aviation. Read Barry's story on how he became inspired to do something different in aviation.
[more articles…]
Avoid Airspace Infringement
Don't be the one that everybody is talking about. Check out the Civil Aviation Authority ten top tips to help the UK pilot avoid infringing controlled airspace. Worth a read.
[more articles…]

Aviation Weather
Stay safe! Always be sure to check the weather each time before you fly. We give you weather charts for the UK and Europe from an overall summary to wind speeds.
[more articles…]

Yorkshire's Hidden Treasure
It used to be known to a select few, but now Eddsfield has made its mark. A reader shares his thoughts on Eddsfield, Yorkshire.
[more articles…]